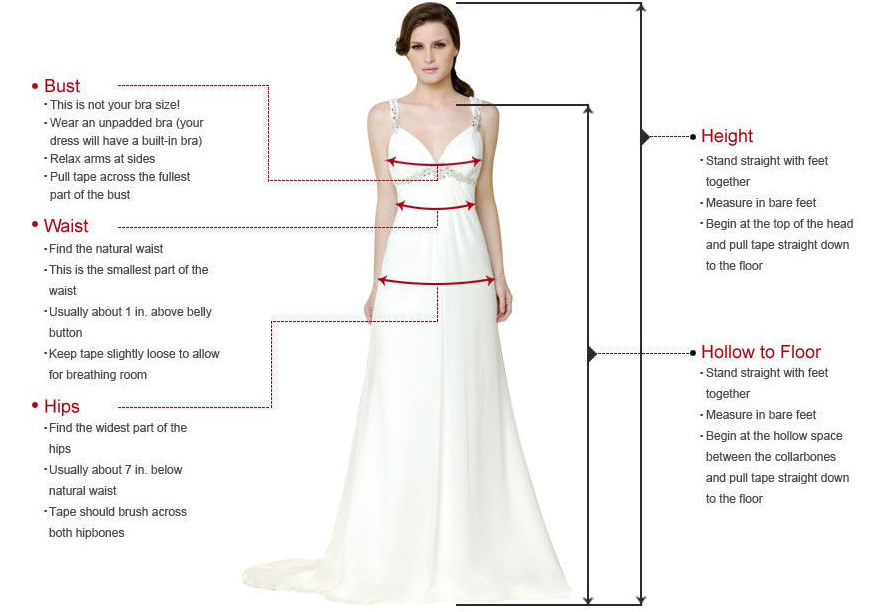 Bust Measurement
Measure the bust line at the fullest part of your chest while wearing a bra that is similar to the one that you will wear on the event day. Stand naturally with your heels together. Let your arms rest by the side of your body. Position the tape so it covers the widest part of the back and the fullest part of your chest.
Waist Measurement
Place the tape at your natural waistline, usually about an inch above your belly button. This should be the smallest part of your waist. Do not pull the tape tight or suck-in your stomach unnaturally allow your body to remain loose.
Hip Measurement
Stand naturally with your heels together in a relaxed posture. Position the tape around the fullest part of your hips.
Dress Length
The dress lenght must be measured according to the style of design that you intend to wear and how you intend to wear the dress. If the dress has straps you must measure from the hollow to the hem in order to assess the fitting of the dress according to its length. If the dress is strapless you should measure from the under arm (the beginning of your arm pit) to the hem. When measuring you must stand straight with your feet together looking directly ahead. If you intend to wear heels with the dress please measure yourself with the heals as you would without.
Hollow-to-Hem Measurement
Hollow-to-hem is a specific length measurement usually only used for bridal gowns. The measurement is taken from the depression at the base of the neck just above the collarbone to where you want the dress to be hemmed. When taking this measurement, please make sure you wear shoes that are similar height to the pair you will wear at the event, and also you may need to account for the fullness of an A-line or full-skirt gown by moving the tape forward away from the body at the hem.
Matching Measurements to Size
We sell the dresses from stock so the bridal gown or bridesmaid dress is not custom made to the exact measurements. Often you will need to plan (budget and time) for a seamstress to tailor your dress for a perfect fit after you receive it. If your measurements indicate one size for the "bust" and a different size for the "waist" and/or "hips", or if you fall between two sizes, we suggest ordering according to the largest measurement. It is easier to take-in the size than to add fabric to a dress. We do offer a free alteration service to the body measurement of the dress if the dresses are purchased in store. If you are able to make it to the store and require this service please contact us for an appointment to try on the dresses.
If you need help with the size or would like to make an appointment, please contact us on 07852775463 or via email at: info@weddingdressmanchester.com